Hip-Hop & Fight World Celebrates $3.5 Million Merger
 T-Rex Harris ECCC Light Heavyweight Champion

Enterprise Based on "Mutual Support" between Sports, Music, and Network Television Combining Fight Events With Live Music Performance" 
I look to this partnership to be the wave of the future.
New York, NY (PRWEB) August 23, 2011
Sydney MacDonald, CEO of talent management company Everi Exposure Entertainment (EEE) and partner Mike Malast, considered the "Young Don King" of fight promotion and CEO of MMA Melee, today announced the kick-off of their new venture sponsoring professional fighting matches combined with live performances by top-notch hip hop acts.
The video and song "Champion", a new release by Austin (featuring platinum-selling artist Lil' Wayne protégé Lil' Chuckee), will premier on the broadcast of a fight that was taped earlier this past August and propelled undefeated featherweight champion Jimy "The Kid" Hettes to UFC stardom. The matches and video, along with exclusive live performances, will air several times throughout September on Fox Sports network's Fight Zone. The program has a potential audience of 47,000,000 viewers.
$3.5 million will be invested in this and several events over the next three years. The song has already been released on Lil' Wayne's Young Money/Cash MoneyHQ website. The video, featuring EEE-sponsored MMA/UFC fighters, will be shot Sept 3rd/Sept 4th in New York.
Austin will also perform "Champion" live on the next televised MMA Melee fight in November.
Plan to Benefit Both Sides
"I look to this partnership to be the wave of the future for supporting and motivating the fighters while increasing their audience, while at the same time opening new doors for artists. But even beyond that, it's about exciting the fans", says MacDonald.
"The potential for increased records sales, cross-marketing, creating new sponsors, generating additional revenue—the possibilities are enormous. Sony and Warner Brothers have expressed interest in coming on board", he continues. "It's a huge milestone for hip-hop music and the music business in general, an untouched market, and we're one of the first to be involved in it."
Sidney MacDonald has done projects with platinum-selling artists Jay-Z, Jamie Foxx, 50 Cent, Rick Ross, P. Diddy, Trey Songz and Avril Lavigne. The talent he represents has been cast in over 100 major motion pictures, including Universal, 20th Century Fox, and Columbia.
He is also Head of Entertainment for both MMA Melee Fights and Martial Arts Super Sports (M.A.S.S). He sponsored undefeated MMA & UFC superstars, including Jay Haas and T. Rex Harris, who have been broadcast on various television networks including Comcast on Demand.
Mike Malast manages and sponsors over fifty top fighters nationwide.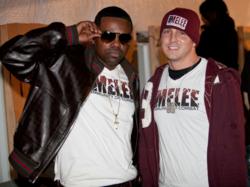 Ceo of (EEE) Music Manager Sydney McDonald & MMA Melee Ceo /Sports Agent Mike Malast
MMA Melee is merging the arts by putting together a compilation of training & fight music destined to hit dojo's everywhere. Mike Malast CEO of MMA Melee – Community of Combat has partnered with Everi Exposure Entertainment to sign its artists B. DeLaney & Shawn Johnson. Their new hit single "IMMA CHAMPION" was chosen to be the first song featured on this historical album.
The music from this collection is intended to maximize motivation and impart honor on days of battle. Going into a competition nothing puts you more in "the zone" then hearing your favorite song and this album will provide you with many. Although the album isn't scheduled to hit store until early Spring the team has been creating major buzz around the album by setting up a nationwide MMA Melee / IMMA Champion Tour. PABO Put-A-BeatOn® out of Philadelphia have been making walk-out songs for some of the networks top fighters and will be making stops to perform on the tour.